Ganga Hoses
a Leading Name in Manufacturing of Industrial Hoses, Hydraulic Hoses, Hose Assemblies, Welding Hoses, Rock Drill Hoses, Car Washing Hoses, Water Hoses and Hoses that can be used in various Industrial Applications.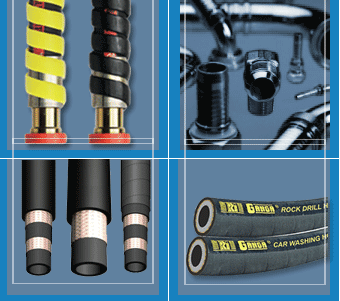 At Ganga Hoses, Quality Comes First While We Produce an Excellent Range of Industrial Hoses, and Not to Surprise, our Various Hoses bring ISI Quality Certiciation with them.
---
Dealership Enquiries Solicited for our Wide Range of Quality Rubber Hoses, Hose Assemblies, Hydraulic & Industrial Hoses etc. in All Parts of India.
Ganga Hoses is among the very few Companies accredited with ISO 9001:2008 and Wide Range of Hoses certified with ISI.

All Kinds of Rubber Hoses, Industrial Hoses, Hydraulic Hoses, Hose Assemblies are being Manufactured by us at our Fully Automated Plant.
---
Highly Skilled Workfoce with huge Experience in Manufacturing of Hoses in Wide Range of Industrial Applications.